You Are Here:
Home
»
Celeb News
»
If I Die Today – Wizkid Makes A Fearful Update
- By
Jblisz
On 5 Sep, 2017 At 08:27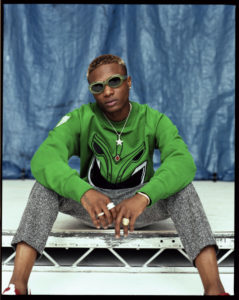 Sensational afro-pop artiste, Wizkid recently made a social media post that is causing fears amongst his fans. The Starboy's cancellation of his US tour as a result of health issues had earlier caused mild agitation but the fears have now heightened with Wizkid's recent tweet about death and it seems that the singer's health issue might have worsened.
See his post.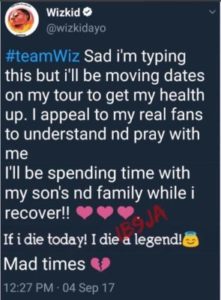 Stay Updated with all Celebrity News, Latest Music, Videos, Music Lyrics, ETC; Join/Like Us now on
Facebook
and
Twitter
Don't forget to SHARE this News with your Friends using the Share buttons Above.
Ads by Music247
Upload and Promote your music or video with us at cheap rate Call/SMS/Whatsapp: 08102950662
WhatEver
Related Posts In » Celeb News